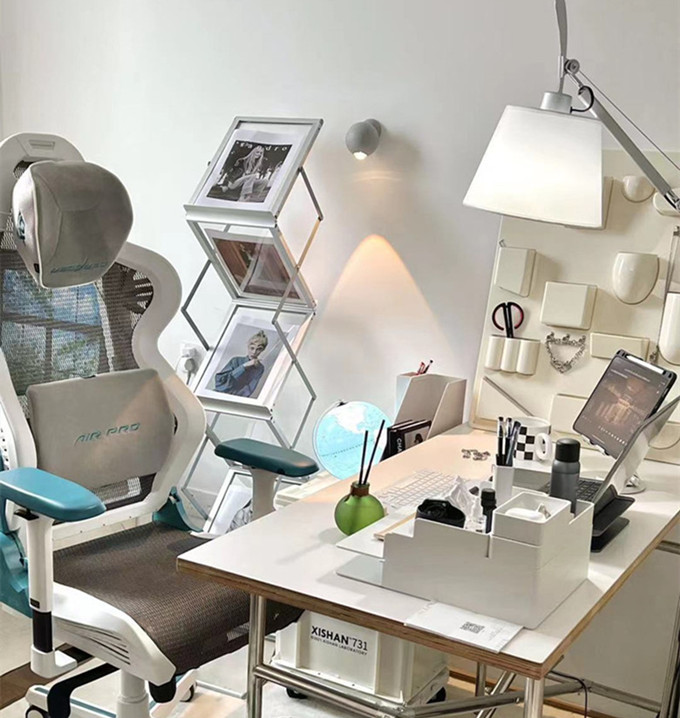 There are several factors to consider when buying an office chair, as different workers have different tastes. You can choose from a number of different materials when shopping for an office chair. Chairs made from mesh fabric are more common, and they're especially common among game players or office workers. The mesh gaming chair is not only very breathable, but also encourages a healthy and natural sitting posture thanks to its ergonomic design.


Breathable & Comfortable


The average office worker spends many hours a day seated. Leather and cotton-wool chairs are notorious for being perspiration magnets, leading to uncomfortable sitting conditions. The problem is resolved by DXRacer Air mesh chairs. Pick DXRacer Air mesh office chair if you want to be as comfortable as you are cool. The eco-friendly and recyclable materials used to make mesh are TPEE and polyester. Air mesh chairs provide for air circulation and ventilation, keeping workers dry and comfortable. The highly flexible mesh not only prevents excess heat and moisture from building up by allowing air to circulate freely, but it also offers superior elastic support for the entire body. When working in an office for extended periods of time, a mesh chair can provide both comfort and ventilation, allowing you to stay cool and productive.

Ergonomic & Healthy


Encourage a Proper Sitting Posture


Games and non-gamers alike can benefit from the gaming chair's ergonomic design. The best gaming chairs offer full body support, from the neck down. Ergonomically effective gaming seats take into account the needs of your spine, neck, and shoulders. When the head is in the correct position, neck pain is eased. Lower back discomfort is reduced when the spine is in its natural position. The lumbar support helps maintain proper hip and lumbar spine posture, which is essential for lower back health. The ergonomic support offered by gaming chairs helps keep the body in the optimum position, relieving pressure on the shoulders, arms, and back.

Reduce Stress on Your Hands and Wrists


Long periods of gaming may result in stress or injury to the hands, elbows, and wrists, but with adjustable armrests, you can find the perfect position for your comfort. For the most part, you can move your hands, elbows, and wrists in whatever direction you like, and the chair will still support them in the proper positions.

Relieve for Back and Neck Aches


Gaming chairs allow you to sit at a computer for long periods of time without feeling tired or strained in the back or neck thanks to their superior support.To prevent discomfort in the lower back from prolonged sitting, gaming chairs are built with lumbar support in mind. The memory foam head pillow is designed to accommodate the neck's natural curvature, alleviating neck pain and stiffness. You need a high backrest that provides excellent neck and upper back support in a high-quality ergonomic gaming chair. You can trust the lumbar cushion's capacity to provide full spine support thanks to its flexibility and the way it's built to mold to your lower back. A high-quality gaming chair will thus shield your entire spine from harm.

Stylish & Durable


Air mesh gaming chairs are available in a variety of colors and have a sleek appearance that matches the style of any office. Air is a modern and fashionable office chair that meets the aesthetic needs of young people today.

The new-tech mesh is highly elastic, strong, and durable; these qualities allow it to evenly distribute a user's weight to the chair's seat and back, and offer full support. An industrial-grade steel frame and suspension springs provide the ideal balance of strength and durability to improve safety, increase the chair's lifespan, and reduce "sagging" over time. Due to ventilation, there is little risk of staining. In addition, each chair's longevity is substantially increased by having a frame made of metal or plastic.