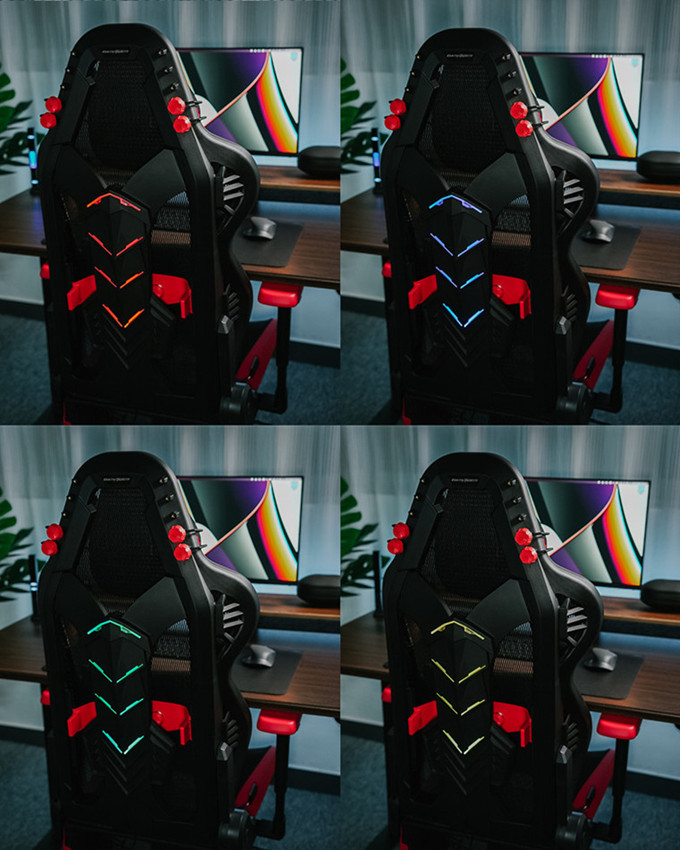 Air mesh chairs with dynamic RGB lights are cool and modern, appealing to the youth of today. You can choose any color mode that matches your working or gaming style in your room or office.

You can customize RGB lights with an RF wireless remote within a 6 m open area. There are 20 static colors, 7 specific colors, 22 dynamic modes, and various color customizations for your choice. However, how to control the RF wireless remote?

◎Press the button 'Turn On/Standby' to power to switch the LED unit to standby mode. LED unit will automatically restore the previous usage state when powered.

◎To adjust playing speed(10 levels), press 'SPEED+' to increase and 'SPEED-' to decrease.

◎ To adjust color brightness (5 levels), press 'BRIGHT+' to increase and 'BRIGHT-' to decrease brightness.

◎Press the button 'DEMO' to turn on demo mode. In demo mode, the light unit will play 17 different dynamic modes in loop and each mode repeats 3 times.

◎Press the button 'MODE' from static color switch to dynamic mode, or switch between dynamic modes.

◎Press the button 'COLORS' to switch from dynamic mode to static color, or switch between static modes.


◎When pressing specific colored key, the LED unit will play the same static color. The specific colors will also appear within 'COLOR+' and 'COLOR-' selections.