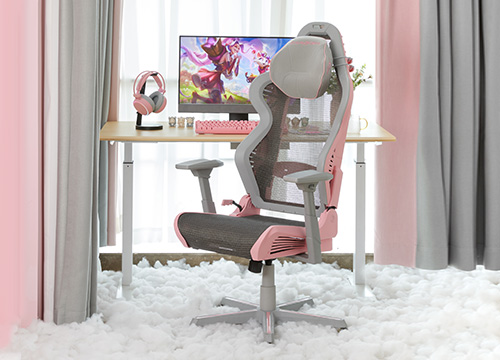 As enjoyable as summer might be for the majority of us, life can be downright miserable for those who cannot tolerate the intense heat. Working during a summer heatwave should be one of the most unpleasant activities because it will not only be easier to suffer heatstroke but also less productive. This is why keeping cool throughout the summer is so critical. A mesh ergonomic chair is a terrific method to stay cool at work while it's sweltering outdoors. Let's discuss the benefits associated with new-tech mesh.

When it comes to mesh, it does not refer to a particular category of textiles. The term "mesh" can be used to describe any sort of fabric with many strands of interlaced fibers that resemble webbing. The breathable mesh fabric is created by weaving the individual threads together or connecting them in some other way. After that, the mesh fabric is stretched out and used to make the backrest of mesh office chairs.

Superior Breathability

The fact that an upholstered back on an office chair gets excessively hot and causes the user to end up with a sweaty back is a common issue that people have office chairs. The sturdy mesh fabric's key selling point is how well it breathes. It is ideal for anyone who sweats heavily, feels overheated easily, or any place where lacks air conditioning.

DXRacer Air Mesh Office Chair is an excellent choice for keeping cool in the summer. Comfortable, breathable new-tech mesh that is certified by EN standards adjusts to your body's shape and skin, allowing you to sit comfortably and freely, just like sitting on the cloud. The ultra-breathable mesh enhances airflow and reduces heat and moisture buildup during extended, intense gaming sessions, keeping players fresh. The mesh fabric helps to circulate air and prevents the skin from sweating and adhering to the material. There's nothing more annoying than sitting on leather office furniture during a heatwave since it gets extremely hot and sticky and does not allow air to flow. Sweating causes your skin to stick to the fabric. Mesh chairs, on the other hand, have an opposite effect.

Long-term Durability

It is also important to note that the mesh has a long lifespan. Air enhances the chair's durability and alleviates the "sagging" issue over time. As a result of the tight weave and high strength, it will not deform or lose its shape. Office chairs with padded or upholstered upholstery can become damaged, and the padding might become squashed or sunken as the chair ages.

Ergonomic Comfort

In terms of comfort, the mesh has grown more popular as the technology of mesh weave has improved. You will be able to maintain an ideal posture thanks to the support of the headrest and lumbar cushion so that you can get on with your day without worrying about a sore back. During the sweltering summer months, office workers, gamers, and others will discover that sitting on a mesh office chair is a pleasant experience.

Easy Clean

Additionally, mesh office chairs are simpler to keep and clean. Air is made from mesh fabric, polypropylene and so on, non-polluting and toxic-free materials that are not easily stained or scratched. To sterilize the chair, all you need to do is give it a quick spritz with some alcohol.