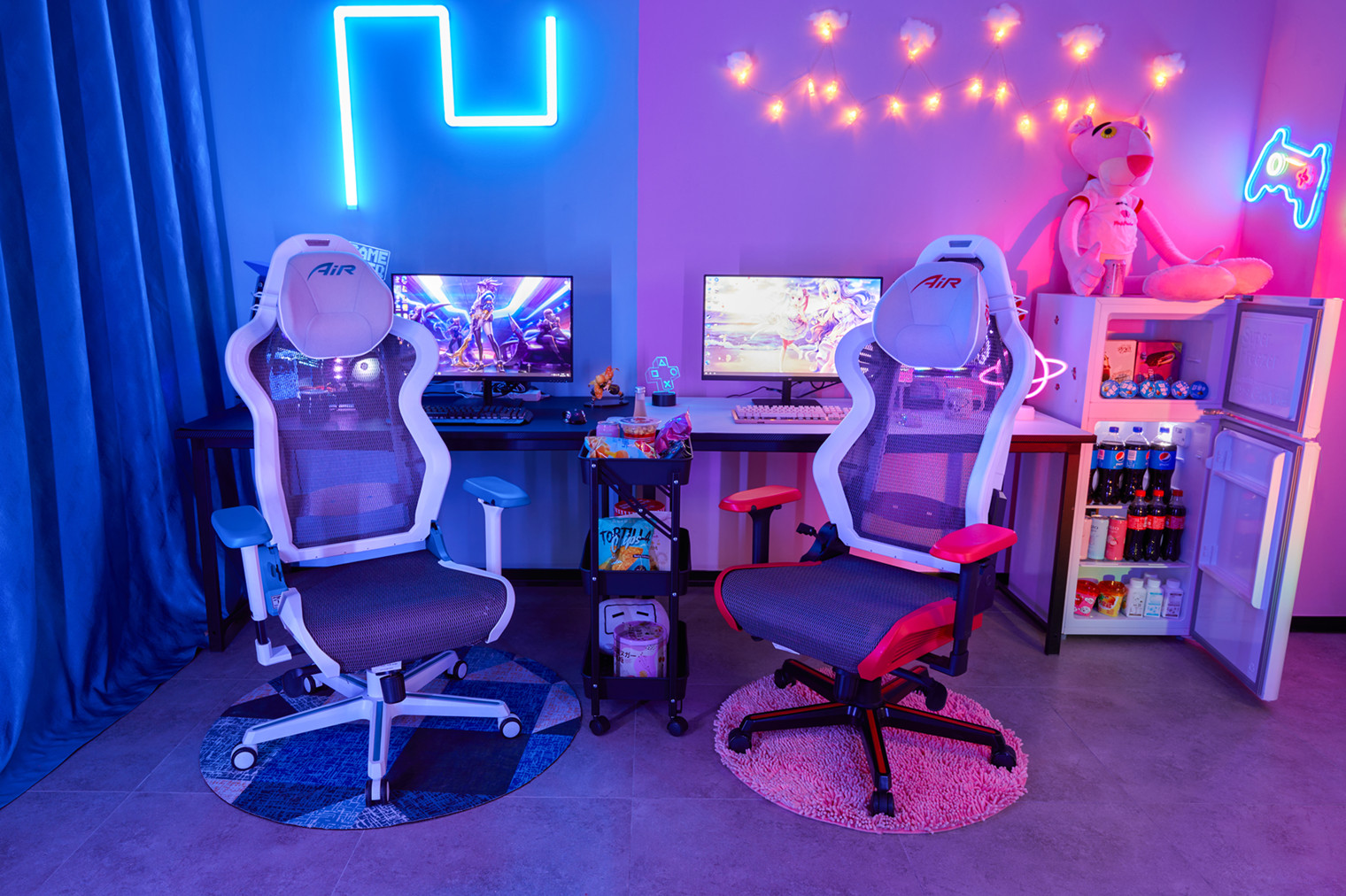 Spending leisure time in a couple's game room is one of the most enjoyable activities for the two of you. Unlike a workplace, a couple's recreation room is yours to decorate and furnish as you like. Regardless of your preferences, the key to establishing the ideal gaming station for a couple is to ensure that each of you get precisely what you need. Setting up a gaming station is a breeze when you have a partner's assistance from the beginning, and it may be fun for two people to decorate together.
First, you check your budget and choose the necessary equipment and decorations within its limits. Choosing furniture, artwork, and a design style that your boyfriend likes is also a great way to show him your support. When shopping for furniture for the space, take into account the two seats, the size of the table, and the desired decorative style.

Personal Space
You must first consider the seating arrangement, how near you want to sit with one another, and whether you want to sit side by side. U-shaped tables are convenient for couples who wish to sit together and enjoy the same monitors. Consider acquiring two gaming desks and chairs, two separate gaming systems, with each player having their own controller and screen, if you desire additional space without feeling too crowded.
Having a well-organized desk and ultimate comfortable gaming chairs is one of the most enjoyable things. DXRacer height adjustable gaming desk, RGB gaming desk, can be a great addition to your gaming setup, allowing you to do other tasks when you are not engaged in gaming activities.

Comfortable Chairs
In a game room for a couple, comfortable gaming chairs are crucial setup. In addition to having flexible multifunctional features, comfort must be the primary concern. DXRacer is the leader of gaming chair brand and the throne of choice for e-sports participants. There are a variety of series, materials, and styles available for you to pick from. Of course, ensure the wireless network connection is robust and there are sufficient power outlets for devices and chargers.

Customized Lights
Some couples prefer daytime activities, while others think that nighttime play is more relaxing. Customized lights that can be dimmed or brightened as you like are a common feature of the best gaming stations for couples. Lighting can create an inviting and relaxing atmosphere. Personally, I don't think a game room is complete without customizable LED strip lighting. You can divide them into different strips of light according to your needs, which produce fantastic effects. You can control the settings of each LED as you wish, making it possible to scroll messages or draw tiny images, create KTV lighting, and much more. Your gaming room will have more personality if it is decorated with a specific color (or perhaps with designs that include multiple colors).

Audio Quality
Some players require complete silence in order to concentrate on the game at hand; in these circumstances, noise-cancelling headphones or add soundproofing to your gaming room. Soundproof insulation, dampening seals, wall panels, rugs, soundproof paint, and other materials provide some soundproofing.
Due to the fact that many players like the companionship of playing with others in a competitive and exciting atmosphere, it is crucial that all players can communicate with their own devices. Therefore, sound effects play an essential role in video games. Direct audio output from a TV or laptop is typically of poor quality. Adding external speakers will exponentially improve your audio quality.

Personalized Decoration
Before decorating the game room, it is essential to determine its aesthetics or theme. Then, add posters, stickers, artwork, photographs, trinkets, etc. in accordance with the theme's aesthetic. It is possible to give the impression that the room is not only a reflection of couples' personalities, but also a haven of gaming only for them, by adorning it with decorations and objects that have significance for them. Remember to keep everything neat and specific. Avoid distractions and tension during playtime by avoiding excessive decoration and reserving sufficient space for the two of you.

Budget Planning
You need to decide beforehand how much money you are willing to invest before starting. Consider going the DIY way for your couples' play setup if you're on a budget. While saving money, it is still possible to enjoy designing your place.



It's better to have a great time than to have a nice-looking game room. With proper planning, you and your partner will be able to play games for many years to come in a comfortable space. If so, are you dating a fellow gamer? Aren't you ready to make your dreams come true? Create unique gaming stations for couples to have fun and show off your abilities.